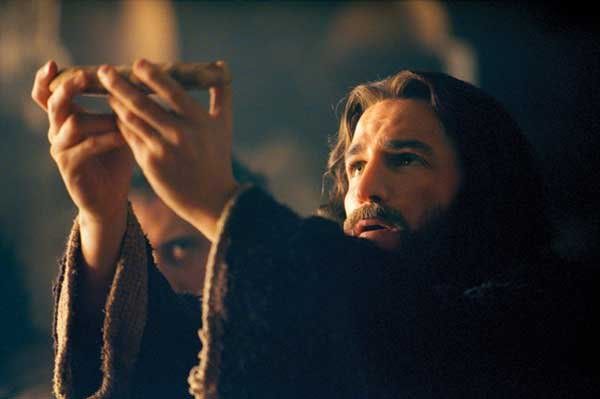 Last night was one of the most beautiful experiences of my life. Rocky and I went to Holy Thursday Mass at our parish,
St. Rita's
. It was gorgeous. All of the altar boys served and I have congratulate Fr. Scalia and the layman who train them. Those boys were fantastic. Not a single mistake, no fooling around, total concentration. I was proud of them. After Mass they stripped the altar with remarkable speed and silence. And I do mean stripped. They took away everything that wasn't nailed down, chairs, rugs, pedestal... everything.
One odd/funny thing happened. Last year a man sat behind us and gave a play by play explanation of the Mass to his child. This year, we got the same guy! Once again, he did a running commentary for his little boy. I wanted to tell his to shut the heck up but that would've been unkind. At least he had his kids at Mass and was trying to teach them. Last year one of those kids couldn't resist petting my hair under my veil. This year, one of them has discovered the joy of spitting. He didn't get me but I hope somebody cleans his pew today.
Father Donahue, our pastor gave a moving homily. He pleaded with us to go to confession, to heal our broken hearts and if anyone was far from God ;to take the precious opportunity to return to Him, tonight. He asked us to remain with Jesus at the alar of repose for a while and asked us to be thankful for the great gift of the Blessed Sacrament. The Eucharist is the medicine of immortality and the antidote to death, so St. Ignatius of Antioch said. Fr. asked us to go to communion as often as we can and reminded us that there is nothing to keep us away except for mortal sin. This is one of the many times when I wish somebody was recording Father's homily. I wish this one could be saved for the future.
I was so carried away with love that I almost bit the parochial vicar during communion. It sounds weird, I know but I usually don't see or feel very aware of the priest at communion. I see myself at the foot of the cross, I hear the words, "Body of Christ" and I recieve. This time I was so far away, so mentally in Jerusalem that I heard the words almost in slow motion. My teeth came together with a bit of force and Fr. pulled back in time but lost his balance with the Host. It's a good thing he's young and has good reflexes. The save was made and communion went on without incident. Anyway.... after Mass Our Lord was carried in a slow, solemn procession around the church and then placed in the altar of repose. The rest of the church was darkened. The only light came from the white drapped altar of repose. I was gratified to see that quite a few people staid to watch and pray after Mass.
Rocky and I then went to
Blessed Sacrament
and prayed at the repose altar there. Blessed Sacrament is an incredibly ugly church but the parish is blessed with very good priests and someone put a ton of love into making the repose altar beautiful. It was touching. I thought of the scene from The Passion of the Christ where Jesus is in the dungeon at the high priest's home. Mary lies prostrate on the floor and Jesus in the dark dungeon below looks up. There is just a tiny bit of light and it's coming from him. No words are spoken, the only communication is love.
After Blessed Sacrament we stopped to pray at
Queen of Peace
. I was sad to see that there was no-one there. Not even a priest. I wasn't shocked though. The worst Mass I've ever sat through was at Queen of Peace so nothing there startles me anymore. Next we went to
St. Anthony's.
That was amazing. I saw young men, tough looking guys on their knees. I saw young couples and whole families. White people, Hispanics, black Americans, Africans, and Asians were all there next to Jesus. Their altar of repose reminded me of the upper room where Jesus said the first Mass.
From St. Anthony's we drove to
St. Thomas Moore Cathedral
. I don't have a high opinion of how the cathedral is run by the lay staff. I really didn't expect it to be open but it was and the repose altar was beautiful. Again, Catholics of all races and ages were there sitting, kneeling, lying prostrate before the Lord.
Bishop Loverde
sat there too, praying from his breviary. It was good to see him.
Our next stop was
Queen of the Apostles.
It's also a relentlessly ugly 1970's styled church. It's like a big bowling alley with dirty looking white brick and amphitheater type seating. However, the parish has been blessed with good men for priests and somebody tried very hard to make the area around the repose altar look soft and lovely with masses of flowers and candles. We saw two orders of nuns praying. Some people sat and prayed. Others knelt or lay prostrate.
Finally, we ended up at
St. Mary's
in Old Town. Three priests sat praying near the altar and we saw a young man who looked like he ought to be rocking on the stage at Madison Square Garden. He was on his knees praying before the altar. God calls everyone. At St. Mary's we saw people of various age groups. At midnight the pastor stood up and grunted at his parochial vicar. They walked to the sacristy and returned with his humeral veil and I think, incense and Jesus was removed from the altar in slience. I felt like Mary Magdalene... "they have taken Him away."
We've wanted to do the seven churches prayer circuit for a while and we were delighted to be able to do it this year. It's a profound prayer experience.