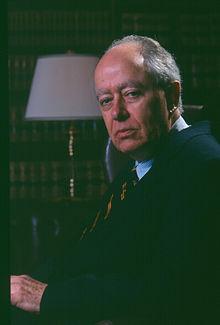 George Robert Blakey
The
Racketeer Influenced and Corrupt Organizations Act
,
84 Stat. 941,
commonly known by its acronym,
RICO,
is the Federal
law
that attacks organized crime with extended criminal penalties and a civil
cause of action
for acts performed as part of an ongoing criminal organization. It was originally drafted by George Robert Blakey, an Irish Catholic government attorney who graduated from Notre Dame and began his career under then Attorney General Bobby Kennedy.

Originally, people thought RICO was only a means for going after the mafia, particularly the Five Families and some Italian Americans feared that it would be used against any Italian businessman who had more than two nickles to rub together. Blakey stoutly argued that this was not the case and anyone, whether his ancestors came over from England in the colonial era or he was fresh off the boat last week was subject to RICO if they were running or part of a organized criminal venture.
Today, many people are saying that the only thing that is going to get men like Cardinal McCarrick
out of our seminaries and
rectories
is an application of RICO to the Church. I've read comments from a few nervous people who say that the enemy of your enemy is not necessarily your friend. They fret that the state attorney generals just want to attack the Church any way they can and there will
unforeseen
consequences for all of us. After the pathetic
performance
of US bishops at the annual
Baltimore
meeting I think it's going to have to come to down to RICO. God help us! Our bishops will not and since many are probably being blackmailed, they can not police themselves. It's incredibly ironic that a law drafted by a Catholic man just might be one of the tools (
along with this one
)for cleaning up this sewer.
St. Athanatius, St. John Eudes and St. Peter Damian, pray for us.